Questions

I wish to invite whoever is designing your graphics to read the
Android design guidelines
. This way not only will you be able to create an interface layout compatible with all screen sizes (as from your admission you are having troubles fitting smaller screens) but also one that fits with the new aesthetics introduced in Ice Cream Sandwich. I believe it would also allow adding more features easily.
As a very basic example, I have come up with one portrait and one landscape view of a possible interface as it would be displayed on an HTC Wildfire S (MDPI).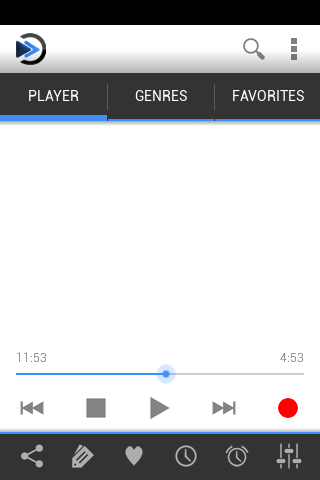 The bottom row of icons are Share, Tag (Tag song), Favorite (Favorite station), Sleep timer, Alarm and Equalizer. I have used the default icons but you can use the ones provided in the beta version as they are more appropriate.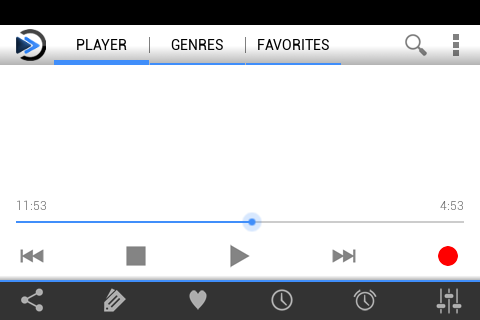 The white space would be filled with station related info, and advertisement for the Lite version.
Action overflow would contain things such as Settings at all times, as well as things not as important based on the active screen. Note that the Action overflow would disappear on pre-Honeycomb Android devices as the Menu key will perform the same function.
Overall though, try to understand the design guidelines. They contain many useful tips for designing a strong interface, and I'm far from an expert myself.
Also, to be honest: I am using an overclocked HTC Wildfire S (800MHz on Cyanogen 7.2 vs stock 600MHz with HTC Sense) and the current interface for the beta lags as all hell, even with animations disabled. A Holo based UI (Which has less animations overall) would perform much better on low end hardware.
Also, while you are reading this: the beta force closes immediately on me as soon as the Play button is pressed. Unrelated but I'd rather not spam the place.